Hyundai i10 Cars (13 Variants )(633,281 Views)
Ex-showroom Price :

3.75 to 6.21 lakh in Delhi Change City
| | | |
| --- | --- | --- |
| Upside | : | Driving pleasure, Ergonomics, Wide choices of variants |
| Downside | : | Price |
| Our Verdict | : | The i10 is one of the best hatchbacks in the market, it is practical, comfortable and a joy to drive. The high-spec versions are priced on the higher side. |
Help us to improve ZigWheels!
Report us if you find any issue in the accuracy of data or simply have a suggestion to share.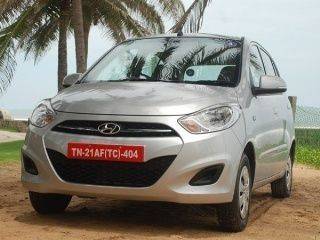 Loading image. Please wait
Editor's View : Hyundai i10
The Hyundai i10 has been a redefining car for the company. This little hatchback showed the world that Hyundai can really deliver on quality, performance and style. The car has won accolades and is a joy to drive. Despite its small exterior, the interiors are rather spacious and can sit 4 adults in reasonable comfort. Mileage and performance are top notch and there is no wondering why this car has done so well in the market. It's truly a brilliant hatchback and not lavishly priced either.
Download Hyundai i10 Brochure

Click here to download Hyundai i10 Brochure
Our Coverage on Hyundai i10 Cars in India
OTHER CARS FROM HYUNDAI

5.18 to 5.55 lakh


3.00 to 4.10 lakh


7.24 to 11.39 lakh

USED i10 LISTING
@ Rs. 300000; Kms:18400
@ Rs. 325000; Kms:20800
@ Rs. 360000; Kms:27450
@ Rs. 380000; Kms:4000
@ Rs. 325000; Kms:42500
Free Price Quote for
Hyundai i10